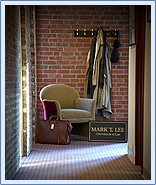 Attorney Mark Twombly Lee is a fourth generation resident of Worcester county and practices law exclusively in the Worcester County. His regular presence in the Worcester Courts and familiarity with the court and the bar eases his clients' way through an often confusing process, saving them time, money and wasted effort.
If you live in Worcester County or expect to have a case in Worcester Probate and Family Court or in Housing Court, or if you need representation to buy or sell real estate – particularly in the case of difficult or complex transactions – contact the offices of
Attorney Mark Twombly Lee for more information or to schedule a consultation.
Attorney Lee of Worcester Practices:
Probate and Family Law
Real Estate Law
Landlord and Tenant/Housing Law
A Skillful Lawyer Representing You
Relieve doubts and uncertainty as to the proper course of action
Assist you in accessing correct information
Understand the relative points to be argued in a limited amount of time
Eliminate courthouse chaos